Teen English
No upcoming event dates
Skillz Beirut, Beirut, Lebanon
Venue
Skillz Beirut
1st floor, Pere Youssef Hayek Street
Beirut, Lebanon
Directions
You enter Gouraud Street (Gemmayze's main street) from Paul restaurant. Keep going until you pass Hospital Haddad on your left and the St. Nicolas stairs on your right. After the stairs you will take your first left, a narrow street facing Ginette Café called Youssef el Hayek. On the corner is a neighborhood store called 'Abdel Massih'. Skillz is on the left in a white building with a black gate, right above an art gallery called Art on 56th.
Description
Skillz has developed a young learners English language/conversation course.
During the summer holiday youngsters (9 -14 years old) can participate in an English Language course at Skillz.
First session will start on July 2 and end on July 27
Second session will start July 30 till August 24
Monday, Wednesday and Friday from 10:00 AM till 12:00 PM during 1 month.
Discussing in English together is an interactive and practical way to learn English.
This is an exciting, vibrant and interactive class!
In small interactive groups (max 10), under the guidance of enthusiastic and inspiring English teachers, students will:
· Read and discuss different texts
· Enjoy practicing their speaking skills
· Develop skills for reading
· Discover new words
· Practice grammar
· Learn to communicate confidently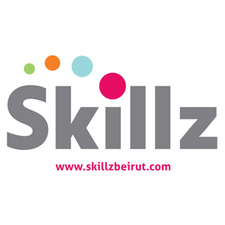 Organizer
Skillz is a training center in the heart of Gemmayze, located in an old French colonial building with its own courtyard.
Skillz gives a variety of training, workshops and courses and hosts events.