Performance: Two Heads and a Hand
No upcoming event dates
Zoukak Studio, beirut, Lebanon

Description

راسين بالإيد
(بالإستناد إلى نصوص ونماذج من مسرحيّات شيكسبير)
جعلت تعليقات شكسبير السّياسيّة الثاقبة على الحكم منه مفكّراً سياسيّاً كبيراً ومتميّزا. منذ أعماله المسرحيّة الأولى، طلب من جمهوره النّظر في المسائل التي تنتقد الملَكيّة: ما الذي يعنيه أن يكون المرء ملكا؟ متى يجب أن يطاع الحاكم أو يعصى؟ كيف يتمّ اكتساب السّلطة السّياسيّة والمحافظة عليها؟ ما هو الفارق بين العنف والوحشيّة في الحكم؟ انطلاقاًمن هذه الأسئلة، شكّلت مسرحيّات شكسبير مسار تفكير في مفهوم القيادة والسّلطة، كأيّ مجادلة سياسيّة أو تاريخيّة. في قراءة لمسرحيّاته،وخاصة التاريخيّة منها، يظهر جليّاً أن القضايا السياسيّة هي جوهر أعماله.
مثّلت السّلطة الفرديّة القاعدة الأساسيّة للقيادة والحكم في معظم أنحاء العالم العربي، حيث حَكَمَ الطّغاةوشخصيّات سياسيّة محدّدة حياة الناس لعقود. حتى في لبنان، حيث لم يستحكم الديكتاتور الواحد في البلاد، تحكم ثقافة هاجسها بعض القادة والشخصيّات الذكوريّة التي شغلت الحكم لسنوات. بعد الثّورات والأنظمة التي نتجت عنها، والحروب التي تلت ذلك وتستمرّ، وفي ضوء فشل الحكم في لبنان، تتّجه السّلطة وتتحوّل باتّجاه تحالفات متعدّدة وغير متوقّعة، ولكن، لا تزال نماذج من النّظام الأبوي تتحرّك وتهزّ المنطقة، متمسّكة بصور من القوّة الغاشمة.
في عرض "راسين بالإيد" المطوّر، نهتم في طرح الأسئلة الشكسبيريّة من أجل تحليل ومساءلة النماذج الأصليّة للنظام الأبوي في سياقنا اليوم.
إعداد وإخراج: لميا أبي عازار وعمر أبي عازار وجنيد سريّ الدين ومايا زبيب
أداء‭: ‬ لميا أبي عازار‭ ‬وجنيد‭ ‬سريّ‭ ‬الدين ومايا زبيب‭
سينوغرافيا‭ : ‬جان‭ ‬فرانسوا‭ ‬غارو
مساعد‭ ‬مخرج‭ : ‬ساري‭ ‬شريتح
تصميم‭ ‬وتنفيذ‭ ‬غرافيكي‭ ‬وفن‭ ‬رقمي‭ : ‬مايا‭ ‬الشامي
إنتاج‭ : ‬فرقة‭ ‬زقاق
بدعم‭ ‬من‭ : ‬دروسوس
قدّم هذا العرض بصيغته الأوّلية عام ٢٠١٦ بدعم من المجلس البريطاني - لبنان ومسرح المدينة وبالتعاون في الإضاءة والسينوغرافيا مع نديم دعيبس.
Two Heads and a Hand
Based on texts by Shakespeare
Shakespeare's savage political commentaries on the government made of him a major political thinker. Since his early works, he asked his audience to consider questions that interrogate leadership: What does it mean to be a king? When should a ruler be obeyed, or disobeyed? How is political power acquired and maintained? What is the difference between violence and brutality in leadership? In this way, Shakespeare's plays constitute a reflection on the concepts of leadership and power, like in any political or historical argumentation. In reading his plays, especially the histories, it is clear that political issues are at their core.
In most parts of the Arab world, individual power has been the norm of leadership. Dictators and certain political figures have been ruling over people's lives for decades. Even in Lebanon, a country that has not experienced dictatorship, personality cults around certain leaders and male figures who have long been in government are imprinted on our culture. After the revolutions and the regimes that resulted from them, and the wars that followed and continue, and in the context of governmental inadequacy in Lebanon, power is shifting towards multiple and unexpected coalitions. And yet figures of patriarchy are still moving and shaking the region, which seems to be clinging on to images of ruthless authority.
In this developed version of Two Heads and a Hand, we are interested in asking Shakespeare's questions today, in order to analyze and question the dominant archetypes of patriarchy in our context.
Two Heads and a Hand will be performed at Zoukak Studio on the 26th, 27th of April and 3rd of May 2018 at 8:30pm. Tickets available through Ihjoz.com and at the door.

Devised and directed by: Lamia Abi Azar, Omar Abi Azar, Junaid Sarieddeen and Maya Zbib.
Performed by: Lamia Abi Azar, Junaid Sarieddeen and Maya Zbib.
Assistant director: Sari Shrayteh
Scenography: Jean Francois Garraud
Graphic design and digital art: Maya Chami
Produced by: Zoukak Theater Company
Supported by: Drosos
This performance was first presented in 2016, with the support of the British Council and Al Madina Theater and in collaboration with Nadim Deaibes on light and scenography.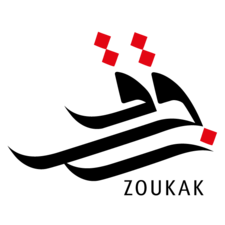 Organizer
Zoukak Theater Company, created in 2006, is a non-hierarchical structure, dedicated to theatre practice as a social and political involvement, with a belief in theatre as a space for common reflection and in collectivity as a position against marginalizing systems.
Zoukak's productions are created in series of common research raising questions around certain themes: gender -"Silk Thread" (2012), religion and power - "Lucena: Obedience Training" (2013), Lebanese history - "Perform Autopsy" (2013) and "Heavens" (2014), death and immortality - "He Who Saw Everything" (2015) and "Death Comes Through the Eyes" (2014), childhood and violence - "School Acts" (2014), "Organs Tissue and Candy Games" (2014) and "Innocent Violence" (2016), Migration - "The Battle Scene" (2015) among others… Their work has been shown in several cities in the Middle East, Europe, the United States, Africa and South Asia (MUCEM museum, 62 Center for Theatre and Dance, The New York Public Library, Ibsen Center, ITFOK, The Battersea Arts Center, The Southbank Center…).
They have been commissioned by international festivals, theatres and universities to create original work: NYUAD's Performing Arts Center, UAE; Krefeld/Monchengladbach City Theaters, Germany; Cynthia Woods Mitchell Center, University of Houston, Texas; Theaterfestival Schwindelfrei Mannheim, Williams College, Massachusetts; LIFT and The Royal Court Theatre, London among others. Zoukak members have participated in residencies, panels and given workshops and lectured at universities and in non-academic contexts, in the Middle East, Europe, the United States and Africa.
In addition to that Zoukak has been working with marginalized communities across Lebanon for the last ten years (disabled children, women victims of domestic violence, incarcerated youths, individuals affected by war, including refugees…), applying theatre on various levels. The company developed a specific approach to psychosocial interventions of drama therapy and socially engaged theatre, providing workshops and training programs to diverse groups, and devising performances in different Lebanese regions and in various contexts locally and abroad, including Calais' migrants and refugee camp, in France and in refugee camps in Serbia.
Zoukak endeavours to develop an environment of dialogue and reflection around the performing arts in Lebanon and to provide artistic development and international touring opportunities for local artists. The company produces collaborations, residencies and events with international artists in the company's studio, curating since 2013 "Zoukak Sidewalks", an international performance platform and "Focus Liban" a showcase for the diffusion of work by local emerging artists.
Zoukak is three-time AFAC award grantee, in 2012 the company received the Ibsen Scholarship award and in 2014 the Anna Lindh Foundation's Euromed Dialogue Award for social resilience and creativity.