Performance: Dystopia by Minwal Theatre Company
Multiple dates from Thursday, March 22, 2018 20:30 to Saturday, March 31, 2018 22:00
Zoukak Studio, beirut, Lebanon
Tickets
Description
22- 24 and 29-31 March 2018 / 8:30pm
Zoukak Studio, Beirut

Tickets:
Regular: 25,000 LL
Support: 50,000 LL
Student Groups (Student card required): 20,000 LL
Purchase your tickets online at Ihjoz or at any branch of Malik's, Khoury Home or Liban Post.
The Zoukak Studio bar is open before and after the performance, so come have a drink and a chat with the team.
About the performance
The performance explores conflict and perseverance in moments devoured by fragility and violence. A permanent conflict and a total affliction that tears up our lives at every moment, while everything rises up and works against our being. Our memories are fragile, the violence is nested, and the infirmity is present, although we are searching for a dream even in tragedies.
Background
The creative work is triggered by a research about the use of multimedia and the use of poetic text in theatre. It is based on "The Deliberated Speeches of the Dictator" by the late Palestinian poet Mahmoud Darwish and "The Ruined Blood Cycle" by the late Syrian poet Riad al-Saleh al-Hussein. The state of the performers, such as Euripides myth "The Bacchae", from delirium and trance to marginalization, cruelty and infirmity, reflects our state as humans in a subversive anarchy. The work is also an artistic dialogue between the company and a mural artwork built by Chafa Ghaddar in Beirut 2012; it is a mural which was exposed to a clear signs of violence through which we look to reveal any surviving marks it can unveil.
Credits
Artistic Vision MINWAL
Scenography & Directed by Jad Hakawati
Performers Roueida El Ghali, Roaa Bzeih, Dima Mikhayel Matta
Devised by Roueida El Ghali, Roaa Bzeih, Dima Mikhayel Matta, Jad Hakawati
Text based on "The Deliberated Speeches of the Dictator" by Mahmoud Darwish, poems from "The Ruined Blood Cycle" by Riad al- Saleh al-Hussein, in addition to texts devised by the team
Text Devised by Roaa Bzeih
Mural Artwork Chafa Ghaddar
Light Designer Hagop Derghougassian
Video Qais Hammoud
Music Designer Sary Moussa
Voice Over Haytham Alwan
Poster and publications Design Karim Farah
Artistic Residency in Collaboration with STATION Beirut
Supported by ZOUKAK
٢٢- ٢٤ و ٢٩- ٣١ أذار ٢٠١٨ / ٨:٣٠ مساءً
استديو زقاق، بيروت
سعر البطاقات:
عادية: ٢٥٫٠٠٠ ل ل
دعم: ٥٠٫٠٠٠ ل ل
طلاب (يجب إبراز بطاقة الطالب): ٢٠،٠٠٠ ل ل

البطاقات متوفرة على موقع Ihjoz.com وفي جميع فروع مكتبة مالكس وخوري هوم وليبان بوست.
بار الاستديو سيكون مفتوحا قبل وبعد العرض لشرب كأس والتحدث مع الفريق.
ملخص العرض
نزاع دائم وانقباض تام تُقطع في اثنائهما الحياة في كل لحظة، وينهض كل شيء ويعمل ضدنا، نحن الكائنات المكتملة التكوين.عنف، سلطة، ذكريات هشة وعجز تُولّد ديستوبيا على المسرح. ينطلق العرض من اشكالية الفرد الخاضع للعنف الذي تحوّل إلى مصدّر للعنف. يتذكر، يستحضر ذاكرته بكل ما بني عليها من لوحات، ويغتنم فرصة نسيان اللوحة، ليعيد بناء صورة جديدة. تتعلق بالماضي وبالحاضر، فلا بد من حلم، حتى في المأسات. هؤلاء الباكوسيات على المسرح الشرسات المنمطات، يتفاعلن مع الجمهور. تظهر القساوة واللعنة عليهن، لعنة السلطة. فهن مكتومات الحرية والنفس. مالهم هو مبرمج، وما يصدر منهن هو مبرمج أيضاً.
الخلفية
عرض مسرحي متعدد الوسائط، تقوم فيه فرقة منوال بتكملة البحث في تطوير استخدام الملتيميديا في العرض المسرحي، وفي استخدام نصوص شعرية وتوظيفها في المسرح. يستند هذا العرض على نصّين،"خطب الدكتاتور الموزونة" لمحمود درويش، وقصائد من ديوان "خراب الدورة الدموية" للشاعر السوري الراحل رياض الصالح الحسين. حالة المؤديات مثل حالة الباكوسيات في اسطورة يوربيدس، من الهذيان والسلطنة إلى الحدية والقساوة ثم العجز، تعكس مانحن فيه كأشخاص شرق اوسطيين داخل فوضوية هدّامة. كما بني هذا العمل إثر حوار فني بين فرقة منوال وبين تجهيز جداري ضخم صمم ونفّذ من قبل شفى غدار، فنانة تشكيلية، وعرض في بيروت - مركز بيروت للفن 2012 وهو جدارية تعبّر عن ذاكرة وتاريخ شخصي وخاص خاضع لاشارات عنف واضحة نبحث داخله عن علامات تبث فيه الحياة وتحد من تشوّهه.
فريق العمل
رؤية فنية منوال
سينوغرافيا وإخراج جاد حكواتي
أداء رويدا الغالي، رؤى بزيع، ديمة مخايل متّى
اعداد رويدا الغالي، رؤى بزيع، ديمة مخايل متّى، جاد حكواتي
النص "خطب الديكتاتور الموزونة" لمحمود درويش، قصائد من ديوان "خراب الدورة الدموية" لرياض الصالح الحسين، إضافة الى نصوص مولفة من قبل المجموعة
اعداد النص رؤى بزيع
تصميم وتنفيذ الجدارية شفى غدار
تصميم الإضاءة هاغوب ديرغوغاسيان
فيديو قيس حمود
تصميم الموسيقى ساري موسى
تسجيل صوت هيثم علوان
تصميم الملصق والمطبوعات كريم فرح
إقامة فنية بالتعاون مع ستايشن بيروت
العرض بدعم من زقاق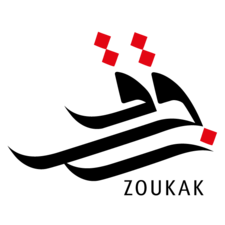 Organizer
Zoukak Theater Company, created in 2006, is a non-hierarchical structure, dedicated to theatre practice as a social and political involvement, with a belief in theatre as a space for common reflection and in collectivity as a position against marginalizing systems.
Zoukak's productions are created in series of common research raising questions around certain themes: gender -"Silk Thread" (2012), religion and power - "Lucena: Obedience Training" (2013), Lebanese history - "Perform Autopsy" (2013) and "Heavens" (2014), death and immortality - "He Who Saw Everything" (2015) and "Death Comes Through the Eyes" (2014), childhood and violence - "School Acts" (2014), "Organs Tissue and Candy Games" (2014) and "Innocent Violence" (2016), Migration - "The Battle Scene" (2015) among others… Their work has been shown in several cities in the Middle East, Europe, the United States, Africa and South Asia (MUCEM museum, 62 Center for Theatre and Dance, The New York Public Library, Ibsen Center, ITFOK, The Battersea Arts Center, The Southbank Center…).
They have been commissioned by international festivals, theatres and universities to create original work: NYUAD's Performing Arts Center, UAE; Krefeld/Monchengladbach City Theaters, Germany; Cynthia Woods Mitchell Center, University of Houston, Texas; Theaterfestival Schwindelfrei Mannheim, Williams College, Massachusetts; LIFT and The Royal Court Theatre, London among others. Zoukak members have participated in residencies, panels and given workshops and lectured at universities and in non-academic contexts, in the Middle East, Europe, the United States and Africa.
In addition to that Zoukak has been working with marginalized communities across Lebanon for the last ten years (disabled children, women victims of domestic violence, incarcerated youths, individuals affected by war, including refugees…), applying theatre on various levels. The company developed a specific approach to psychosocial interventions of drama therapy and socially engaged theatre, providing workshops and training programs to diverse groups, and devising performances in different Lebanese regions and in various contexts locally and abroad, including Calais' migrants and refugee camp, in France and in refugee camps in Serbia.
Zoukak endeavours to develop an environment of dialogue and reflection around the performing arts in Lebanon and to provide artistic development and international touring opportunities for local artists. The company produces collaborations, residencies and events with international artists in the company's studio, curating since 2013 "Zoukak Sidewalks", an international performance platform and "Focus Liban" a showcase for the diffusion of work by local emerging artists.
Zoukak is three-time AFAC award grantee, in 2012 the company received the Ibsen Scholarship award and in 2014 the Anna Lindh Foundation's Euromed Dialogue Award for social resilience and creativity.