Performance: The Jokers
No upcoming event dates
Zoukak Studio, Beirut, Lebanon
Description
On the 16th, 17th and 18th of December at 8:30pm, Zoukak will première its new play "The Jokers", the outcome of a collective artistic process joining theatre and music. The play premièred internationally last October in Bordeaux within the Festival International des Arts de Bordeaux Métropole (FAB).
Enjoy a drink at the Studio Bar with the artists and the team after the performance.
Tickets are available online through Ihjoz as well as at Malik's, LibanPost and Khoury Home.
Tickets can be purchased at the door upon availability. For more info about availabilities for the same day, please call: 71585423.
The performance is not suitable for people under the age of 18.


في ١٦ و١٧ و١٨ كانون الأوّل الساعة الثامنة والنصف مساءً، تنطلق جولة العروض الأولى في لبنان لعمل الفرقة الجديد «الجواكر» وهو ثمرة عمل خلاق جماعي يجمع المسرح والموسيقى. افتتحت الفرقة «الجواكر» في عروضه الأولى عالميّاً في تشرين الأول في بوردو، فرنسا، ضمن المهرجان الدولي للفنون في بوردو.
.بعد العرض استمتعوا بالبقاء والتحدث إلى فريق العمل في مقهى الاستديو
البطاقات متوفرة على موقع احجز، كما في Malik's, Liban Post و Khoury Home وعلى الباب حسب التوفر.
العرض غير مناسب لمن هم دون سن ال ١٨.


---
There is a child. Omnipresently absent.
There is a musician. Pulling the strings.
The setting is a shelter, which is a brothel, which is a theatre: a stage and dressing room.
Or perhaps it is simply the projection of the intimacy between three performers backstage.
Their roles are constantly changing; we get glimpses of the unpolished reality behind their performances.
We bare witnesses to the very transfigurations that their "audience" do not wish to see.
Background
This work revisits the "jokers" of society; those characters that manifest themselves as distinctive from others, transformed by society into easy allegories, and made into proxies for all means of filth and deception or purity and wisdom. They are figures inevitably alienated by their own otherness, whether inherent or assigned. They become a screen onto which to project any narrative, escaping the anxiety of self-identification within a community or society. These appointed scapegoats could then be cursed, marginalized, denied existence, tortured, burned, and killed, or conversely sanctified, canonized, and worshiped. They are the products of a culture nourished by binaries of good and bad, the mirror of collective intelligence, the transfigurations that diverge and transcend the individual.
Credits
Conceived and devised by Zoukak Theatre Company
Directors: Omar Abi Azar and Junaid Sarieddeen
Performers and devisers: Lamia Abi Azar, Junaid Sarieddeen, Maya Zbib
Musician: Khodor Ellaik (Kid Fourteen)
Dramaturgy: Omar Abi Azar, Mohamad Hamdan and Junaid Sarieddeen
Assistant Director: Marianne Kortbani
Scenographer: Nathalie Harb
Assistant scenographer: Zyad Ceblany
Illustration of set Masks: Joseph Kaï
Poster designer: Maya Chami
Sound engineer: Jawad Chaaban
Light designers : Guillaume Tesson and Nadim Deaibes
Technical director: Nadim Deaibes
Make-up artist: Mohamad Reda
Costume designer: Mahmood Al-Safi
Production manager: Mohamad Hamdan
Produced by: Zoukak Theatre Company
Supported by: DROSOS
هناك طفل، غائب، حاضر في كل مكان.
موسيقي يضرب الأوتار.
المكان ملجأ وماخور ومسرح في آن: خشبة مسرح وغرفة تغيير الملابس،
أو ربما ببساطة هو صورة عن حميميّة كواليس ثلاث مؤديات.
أدوارهن تتغيّر باستمرار؛ نلمح معها واقعهن المخفي خلف استعراضاتهن.
نشهد على عمليات التجلي التي لا يرغب جمهورهن رؤيتها.
خلفية
يتناول هذا العمل «جواكر» المجتمع؛ تلك الشخصيّات التي تُظهر تميّزها عن الآخرين، يحوّلها المجتمع بجميع الوسائل، إلى رموز وممثلين لكل قذارة وخداع أو كل نقاء وحكمة. هم شخصيّات مغرّبة من قبل غيريّتهم الخاصة، موروثة كانت أم معيّنة لهم. يصبحون شاشة يُسقَط عليها أيّ سرد كان للهروب من قلق التماثل مع مجموعة. يصبحون إذاً كبش محرقة، ويُحلّل لعنهم وتهميشهم وحرمانهم من الوجود وتعذيبهم وحرقهم، أو على العكس، وضعهم على العرش وتطويبهم وعبادتهم. هم نتيجة ثقافة تغذيها ثنائيات الخير والشر ومرآة الذكاء الجماعي، والتجليات التي تحوّر وتتجاوز الفرد.
فريق العمل
تصوّر وإعداد وتأليف: فرقة زقاق المسرحية
إخراج: عمر أبي عازار وجنيد سري الدين
تمثيل وإعداد: لميا أبي عازار وجنيد سري الدين ومايا زبيب
الموسيقى من تأليف وأداء: خضر علّيق - كيد فورتوين
دراماتورجيا: عمر أبي عازر ومحمد حمدان وجنيد سري الدين
مساعد المخرج: ماريان قرطباني
سينوغرافيا: ناتالي حرب
مساعد السينوغرافيا: زياد سبلاني
رسم لأقنعة الديكور: جوزيف قاعي
تصميم الملصق والمواد البصرية: مايا شامي
مهندس الصوت: جواد شعبان
تصميم الإضاءة: غيّوم تيسّون ونديم دعيبس
المدير التقني: نديم دعيبس
مكياج: محمد رضا
مصمم الأزياء: محمود الصافي
مدير الإنتاج: محمد حمدان
إنتاج: فرقة زقاق المسرحية
بدعم من: مؤسسة دروسوس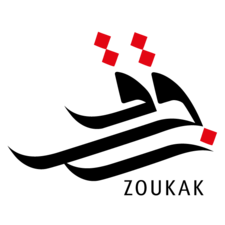 Organizer
Zoukak Theater Company, created in 2006, is a non-hierarchical structure, dedicated to theatre practice as a social and political involvement, with a belief in theatre as a space for common reflection and in collectivity as a position against marginalizing systems.
Zoukak's productions are created in series of common research raising questions around certain themes: gender -"Silk Thread" (2012), religion and power - "Lucena: Obedience Training" (2013), Lebanese history - "Perform Autopsy" (2013) and "Heavens" (2014), death and immortality - "He Who Saw Everything" (2015) and "Death Comes Through the Eyes" (2014), childhood and violence - "School Acts" (2014), "Organs Tissue and Candy Games" (2014) and "Innocent Violence" (2016), Migration - "The Battle Scene" (2015) among others… Their work has been shown in several cities in the Middle East, Europe, the United States, Africa and South Asia (MUCEM museum, 62 Center for Theatre and Dance, The New York Public Library, Ibsen Center, ITFOK, The Battersea Arts Center, The Southbank Center…).
They have been commissioned by international festivals, theatres and universities to create original work: NYUAD's Performing Arts Center, UAE; Krefeld/Monchengladbach City Theaters, Germany; Cynthia Woods Mitchell Center, University of Houston, Texas; Theaterfestival Schwindelfrei Mannheim, Williams College, Massachusetts; LIFT and The Royal Court Theatre, London among others. Zoukak members have participated in residencies, panels and given workshops and lectured at universities and in non-academic contexts, in the Middle East, Europe, the United States and Africa.
In addition to that Zoukak has been working with marginalized communities across Lebanon for the last ten years (disabled children, women victims of domestic violence, incarcerated youths, individuals affected by war, including refugees…), applying theatre on various levels. The company developed a specific approach to psychosocial interventions of drama therapy and socially engaged theatre, providing workshops and training programs to diverse groups, and devising performances in different Lebanese regions and in various contexts locally and abroad, including Calais' migrants and refugee camp, in France and in refugee camps in Serbia.
Zoukak endeavours to develop an environment of dialogue and reflection around the performing arts in Lebanon and to provide artistic development and international touring opportunities for local artists. The company produces collaborations, residencies and events with international artists in the company's studio, curating since 2013 "Zoukak Sidewalks", an international performance platform and "Focus Liban" a showcase for the diffusion of work by local emerging artists.
Zoukak is three-time AFAC award grantee, in 2012 the company received the Ibsen Scholarship award and in 2014 the Anna Lindh Foundation's Euromed Dialogue Award for social resilience and creativity.