BEASTS
No upcoming event dates
Beirut Waterfront – Rafiq Hariri Park, Beirut, Lebanon
Description
WEDREAMLEBANON
Opens daily from 4pm-12am
Entrance Ticket gives you access to a Food Section by Souk El Akel, a Kids Section by Little Me, F1 Shows & Terry Grant Shows
Free entrance for Kids under the age of 10
Entrance ticket is valid for 1 day only
Opening day Fireworks Spectacle on the 24th of August
In August 2017, Lebanon will dare to DREAM. In a first-of-its-kind initiative, non-profit Beirut Events and Street Shows organisation is reinventing Lebanon's face, turning a struggling reality into an exciting fairytale.
The organisation's summer festival #wedreamlebanon project spanning over 12 days will combine the finest world-class entertainment shows and artistic performances with state-of-the-art tools in the magical location of Beirut's Marina Waterfront, creating a never-seen experience for locals and tourists alike. Segmented into different "villages" dedicated to a kid's area, a food court, extreme sports performances, a concert venue, an art area, and a sunset lounge, the festival aims at designing a holistic experience that caters to a broad and diverse audience.
The festival will gather local and international talents in a ground-breaking setting designed according to world-class standards. Employing state-of-the-art tools, including 3 D effects and laser shows, and cutting-edge technology like 3 D mapping, the 12-day festival will be projected on screens, adding to the futuristic and avant-garde vision of the event.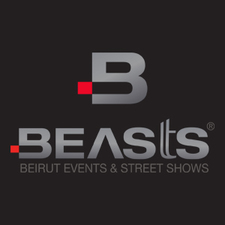 Organizer
Beirut Events and Street Shows, BEASTS is a non-profit organization born in 2017 from its founders' will in preserving a Lebanon that has been, and will always be, an exemplary beacon of openness, and an innovation platform attracting the region and the world.
Founded by Rasha Jarmakani and Maya Abou Saleh, BEASTS will hold its first festival in Beirut under the slogan "We dream Lebanon" initiating social, cultural, and entertainment activities that target all Lebanese social and age categories with no exception, promoting the sense of national belonging across Lebanese generations, and highlighting a resilient Lebanese culture of success and achievement.
BEASTS also aims at repositioning Lebanon on the international tourism map, through attracting international talents and audiences, and adopting state of the art innovative technologies showcasing Beirut and Lebanon as an avant-garde hub for regional trends.
While actively working towards increasing Lebanon's exposure on both the regional and international scenes, BEASTS initiatives are designed to proudly contribute into dynamizing our local economy through touristic, cultural and entertainment activities that attract thousands of visitors and a large number of businesses and entrepreneurs investing in creating more job opportunities for the Lebanese.