Intensive SAT sessions summer 2018
from Monday, July 2, 2018 09:30 to Friday, September 7, 2018 13:45
Skillz, Beirut, Lebanon
Tickets
Venue
Skillz
2nd floor, Pere Youssef Hayek Street
Beirut, Lebanon
Directions
You enter Gouraud Street (Gemmayze's main street) from Paul restaurant. Keep going until you pass Hospital Haddad on your left and the St. Nicolas stairs on your right. After the stairs you will take your first left, a narrow street facing Ginette Café called Youssef el Hayek. On the corner is a neighborhood store called 'Abdel Massih'. Skillz is on the left in a white building with a black gate, right above an art gallery called Art on 56th.
Description
Join the intensive summer SAT sessions at Skillz and prepare yourself for the official SAT exams in October and December of 2018!
In two weeks you will learn all about the SAT test and the strategies needed to increase your chances of a high score.
Skillz has made some changes to the schedule and there are no more classes on Saturdays.
Classes are from Monday to Friday from 9:30 AM till 1:45 PM
In Skillz' SAT class students now benefit from 32 hours of tutoring, a final mock exam and a personal one on one review, making more than 36 hours of SAT training!
A Skillz SAT course will provide students with:
36 hours of SAT training
Final mock exam
Personal one on one review after the final mock exam to discuss the results
Free review sessions before official scheduled SAT tests
Clear understanding of all elements of the SAT
Strategies to be applied with lots of practice
Cooperative and interactive learning
Classes of maximum 10 students each
Our effective and updated SAT course makes sure students face the SAT exam with confidence.
In addition, Skillz now offers free SAT review sessions to its students before each official SAT exam.
All SAT students at Skillz are eligible to attend these free review sessions.
Summer 2018 schedule
Every two weeks starting 2 July till 7 September
Classes are from Monday till Friday
Time: 9:30 AM till 1.45 PM
Break from 11:30 AM till 11.45 AM
No classes on Saturday and Sunday
Price: $450 (including book)
* maximum students per class is 10 and classes fill up rapidly, register in advance!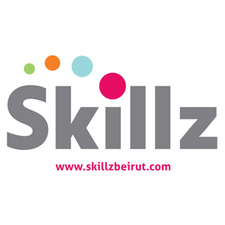 Organizer
Skillz is a training center in the heart of Gemmayze, located in an old French colonial building with its own courtyard.
Skillz gives a variety of training, workshops and courses and hosts events.